Chair Massage is not only a great introduction to massage, but also an opportunity to gain relaxation and fresh energy with minimal time involved, e.g. at your lunch break. Achieve relief from stress due to repetitive movement, strained positions or strenuous work. After a brief intake prior to the massage, I will create a session for you considering your unique needs.
Fully dressed, sitting on a comfortable massage chair, you can immerse yourself into a relaxing atmosphere.
The chair enables massage of the entire back, neck and head area, as well as arms and hands without use of oil. Deep Tissue Massage, Trigger Point Release and Joint Movement are some of the techniques used to create a balanced experience and increase in relaxation.
Massage on the chair can last 5, 10, 15 minutes or as long as you decide

There are plenty of occasions for a chair massage: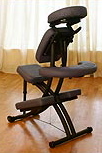 on-site, in offices, businesses, conferences

family gatherings

as a gift for family, friends or clients

as a sign of appreciation for your employees

Chair Massage in Your Business
Treat your business employees to chair massage! Allow them a break at work for 15 minutes on-site, within the flow of business tasks. Have a refreshed, motivated and energized person return to work.
Please call me for a free taste of chair massage and to get more information on how it will work for your office.